Holidays are here, and with them travel. There are many of you who during the holiday period take your travel adventure companion with the family, for this reason, we want to explain how to transport your bicycle in the simplest and most comfortable way.
Questions to take into account before purchasing your bike rack.
How many bikes do you want to transport?
It is essential to anticipate the number of bicycles that you will want to transport.
To transport 3 bicycles, all types of bicycle racks are suitable, but from 4 bicycles the most practical are ball racks or hook the roof racks. If you want to transport more than 4 bicycles (unusual in a family environment), the preferable thing is a bicycle carrier with which you can transport up to 6 bicycles.
What vehicle do you have? What elements does it have?
To avoid excessive investment, you can adapt your choice of thebike rack to the vehicle you currently have, so you should ask yourself:
Do you have a roof rack? If so, your best option is a roof rack.
Do you have a hitch ball? If so, you can opt for a ball bike rack.
How often are you going to use it?
For occasional use, the roof bike rack will be the most practical solution.
For occasional use, the tailgate bike rack will be the most economical solution.
For regular and intensive use, the ball bike rack will be the most comfortable solution, since installation and loading are much faster than in the previous cases.
NOTE: You have to take into account the vehicle model you have because apart from the compatibility tables of each bike rack we must take into account the morphology of our vehicle. For example, if your car is very tall, the roof bike rack will not be the most suitable.
Types of bicycle carriers:
Depending on the frequency of use, the distance of your trip, the budget, and the number of bikes you want to transport, you can basically choose between three types of bike racks:
Ceiling
Tailgate or trunk
Ball or hitch
1. The roof bike rack
The roof rack requires the installation of roof bars. With it, you can transport up to 4 bicycles depending on the width of your vehicle.
Advantage:
Inexpensive if you already have roof bars installed.
Allows good rear visibility and access to the trunk.
Your bikes will be firmly attached, and they probably won't get as dirty on the road.
They do not require additional signage on your vehicle.
Insurance As they are easily accessible, they make thieves think twice about leaving the vehicle parked. Most of them have a security key/padlock.
Drawbacks
It is the most complicated solution for loading and unloading since you will have to install the bikes at the height of the roof bars.
Wind resistance is higher, and therefore fuel consumption is also higher.
You can restrict access to some parking spaces or steps with limited height.
2. Tailgate or trunk
It is the most practical solution if you are an occasional user. It does not require the additional installation of any element in your vehicle. It is fixed with the help of tapes on the tailgate of your vehicle. This system can transport up to 3 bikes.
Advantage:
Practical, easy to assemble and disassemble, and very easy to store.
Your vehicle does not gain height so you will not see restricted access to parking lots or limited height steps.
Economical. This type of system is usually not very expensive and is presented as a good option if you are going to use it occasionally.
Wind resistance is slight, so it does not increase fuel consumption as in the case of rooftop bike racks.
Drawbacks
Block access to luggage from the trunk.
If you are going to park your vehicle with loaded bikes, you need an anti-theft device.
You will need an outgoing load marking plate.
If the license plate and lights on the vehicle are hidden by the bike rack you will need to have an additional license plate (to give it visibility) and additional signal lights.
3. Ball or hitch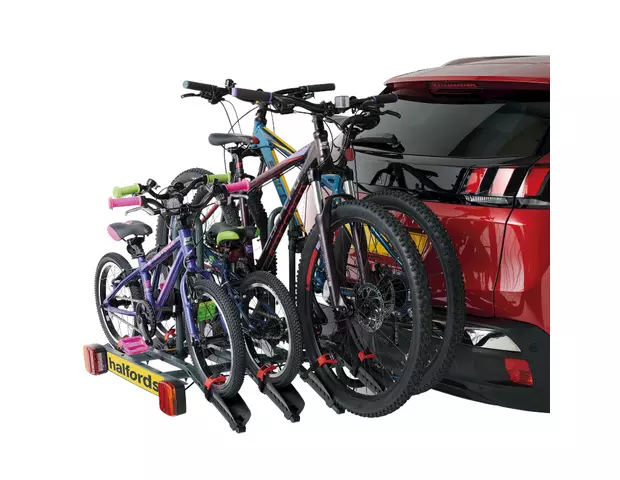 This type of bicycle rack requires the installation of a ball hitch in your vehicle, but if you transport the bicycle often, it is presented as the best and safest solution. Can carry up to 4 bikes
Advantage:
It is simple and quick to assemble
It offers much more stability.
Access to bikes is easier and they are well protected from shocks
(in some models) Access to the trunk even loaded.
Insurance. The vast majority have padlock / key security systems.
Integrated additional signage.
Wind resistance is slight, so it does not increase fuel consumption as in the case of rooftop bike racks.
Ideal for transporting Electric Bicycles (always respecting the maximum load).
Drawbacks
It can reduce rear visibility by being positioned on the tailgate.
It is the most expensive system and requires the installation and approval of the hitch ball.
We hope that this little guide will be of great help to you. At www.steadcycles.com.au you can find bicycle racks and a lot of accessories so you can travel by bike this vacation!